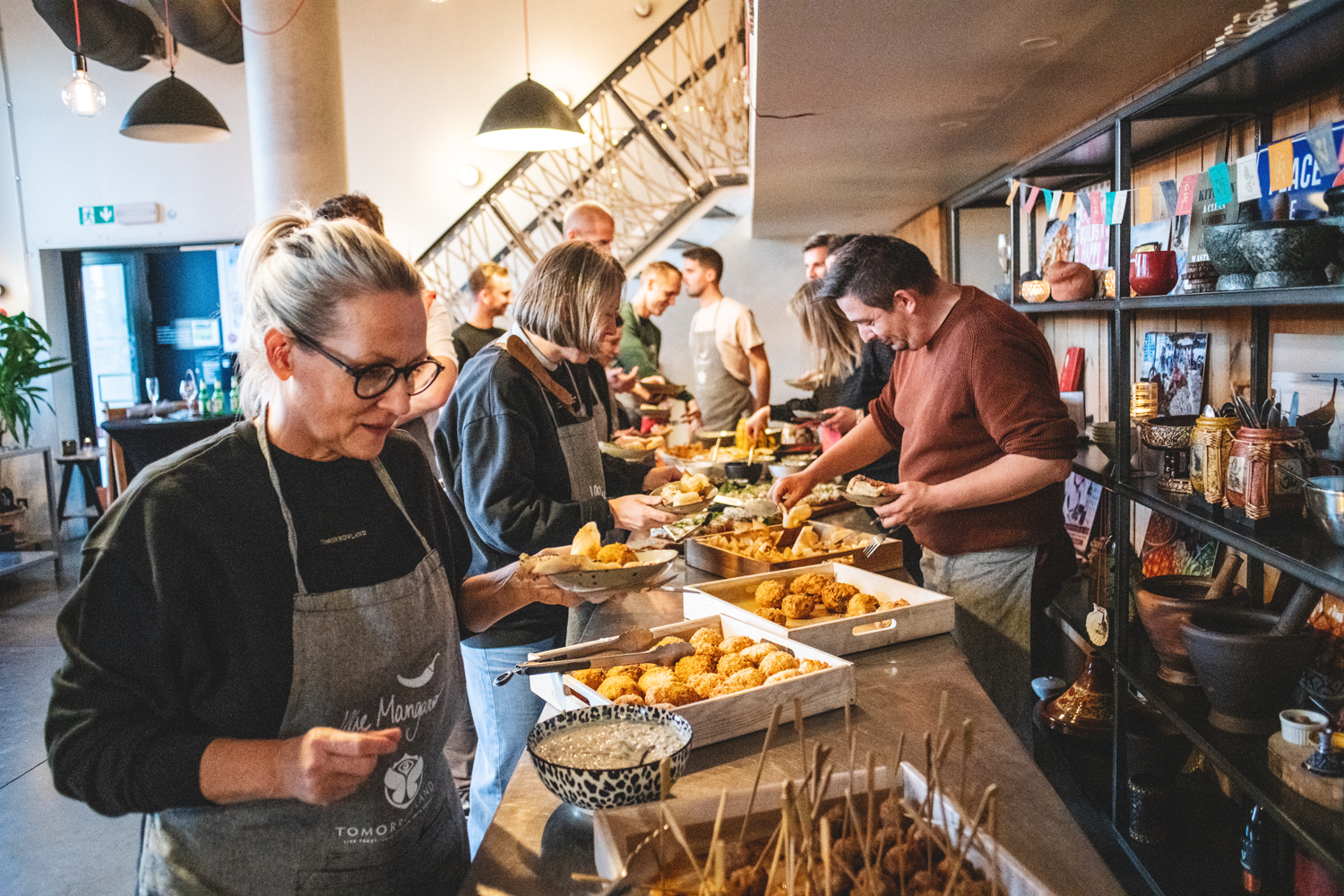 WHAT DID OTHER COMPANIES THINK OF THIS EXPERIENCE?
TOP avond!
Hele fijne plek voor een creatieve, kook-teambuilding! Goede begeleiding, verse producten, lekkere wijnen. Top avond gehad. Bedankt Ilse en Elise.
Een echte aanrader voor een personeelsfeestje van KMO!
Een echte aanrader! Ik ben alles behalve een kok maar het halfjaarlijkse personeelsfeestje dat we voor deze gelegenheid in Illiemangarro hielden was echt een leuke ervaring.
Door de 4 vriendelijke medewerk(st)ers werden we in kleine groepjes ingedeeld en onder hun goede begeleiding was het een leuke ervaring om nieuwe wereldgerechtjes te leren kennen en mogen maken.
Het was bijna op een speelse manier waarop elk groepje een lekker gerechtje leerde maken. Het geeft dan niet alleen lekker eten als resultaat maar ook een leuke ervaring van "bounding" met de collega's en diens partner.
Dus bedankt aan de directie Sortimo om dit event te hebben ontdekt en bedankt aan het team van medewerkers voor jullie leuke formule!
Voor groepjes van onze grootte (+/- 30) was dit een ideale ervaring van een avond vol plezier, lekker eten en voldoende drank (en dat hoeft inderdaad niet altijd alcohol te zijn).
Leuke teambuilding!
Leuke, lekkere teambuilding met vriendelijke en hartelijke ontvangst.
Had a wonderful time at a corporate …
Had a wonderful time at a corporate event here!
Or do you wish you could already take a look behind the scenes to learn about one of Illie's experiences?
Thomas Martens
2022-12-17
Cool location and ideal for workshops, event or company party! Pleasant people and top service!
Nadine Heirwegh
2022-12-08
Highly recommended ! We were welcomed by Ilse and her team, who professionally supported us in preparing a delicious tapas menu. Really top notch. Our entire ADVEO team enjoyed it literally and figuratively 🙂 .
Mathilde Leroy
2022-11-23
We did a team event at Illie Mangaro and everyone loved the event, from the original recipes to the atmosphere, venue, drinks, supported by caring people.
Fun workshop, with good recipes. The guidance was enthusiastic and tailored to the participants.
We had a fun, delicious and healthy cooking workshop geared towards children. A lot of new things, but under Ilse's good guidance it went very smoothly. Afterwards, we also received the recipes and some lovely photos with all the beaming faces on them! Thank you Ilse and the Illie Mangaro team for a successful lunch!
Alexandra Lanneau
2022-10-19
Thank you for a wonderful evening, everyone had a great time. Tiptop!
Out of the box caterer. Super tasty, fresh, catered. Highly recommended for healthy eaters!
Augustus Van Renterghem
2022-02-10
Through Dun Huang, I joined Illie Mangaro for a Korean cooking workshop. As a first timer, I didn't really know what to expect. But what a ge-wel-di-ge evening I had! From Ilse's warm welcome to chef Youn Jeong Choi's impressive skills to the fun company of the other participants. My first cooking workshop was a great success. Thanks Ilse! 🥰